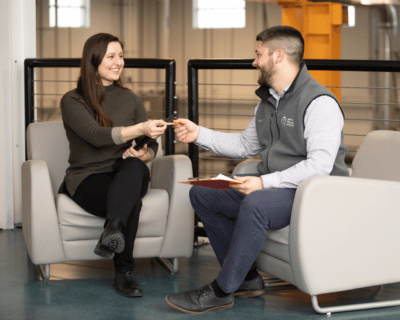 If you're thinking of returning to the world of work after some time off during the pandemic, then you might be wondering how to make your resume look attractive. Good thing you've come to the right place! 
We're here to share our tips on how to manage gaps in your work history and show employers that you're the right person for the job.
Address gaps in your employment history
One of the biggest issues you'll face when rejoining the workforce is dealing with a gap in your work history. Local employers are facing a worker shortage, so while they won't see pandemic-related resume gaps as a bad thing, they'll likely want to know what you did while you weren't working. 
Attach a cover letter to your resume explaining how you've been proactive in looking for employment, how you've been developing your professional network, and talk about what initiatives you've taken to improve your skills in preparation for your return to the workforce. Honesty is the best policy when it comes to explaining gaps on your resume, so make sure to be transparent with your potential employer.
Highlight skills that you developed during the pandemic
Employers are eager to know how you've been developing your skills during the pandemic, so be sure to mention any online training or certifications you may have gained while unemployed. Make sure to bring attention to any hard skills that you've acquired, including your soft skills as well. Interpersonal skills like resilience, problem-solving, and work ethic are highly valued by employers in a post-pandemic world. Include a soft skills section on your resume to better highlight why you'd be a great fit for the job.
If developing your work skills is important to you, remember that ETS offers it's very own work skills training initiative called Ready4Real! Click here to learn more or ask your recruiter how to brush up your work skills with our Ready4Real programming opportunities. 
Have your recruiter manage multiple applications
Avoid sending dozens of resumes out to numerous employers all at once. HR recruiters and hiring managers can spot cookie-cutter resumes and cover letters from a mile away, so don't send the exact same resume to 30 different job applications or you'll just come across as uninterested.
If there are a handful of opportunities you are interested in applying for, it's far better and easier to have an ETS recruiter manage that process for you.
We're a completely free resource to you, so ask us for help to manage your job search process! And, we can even help you craft or fine tune your resume for each role you're applying to. We will offer support to develop your perfect resume and ensure you are presenting yourself in the best possible light. Live chat with us today to get started or apply now to one of our hundreds of open roles.