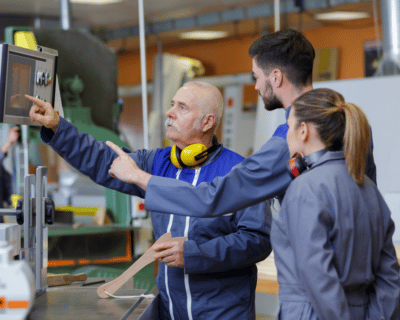 Whether you're just starting out in manufacturing or looking to make an industry switch, we've got you covered. 
Here is everything you need to know about manufacturing careers:
Manufacturing is a career, not a job
When you enter the industrial workforce, you're starting a career in an advanced and rapidly growing industry that has hundreds of career opportunities. This includes positions for those in all stages of their careers, from entry-level to more advanced roles. Individuals have the ability to create products that help people live their day-to-day life with cutting-edge technology. 
The industry is always changing
The manufacturing industry is rapidly growing, with no signs of slowing down anytime soon.  Through 2030, 4 million industry jobs will need to be filled. With today's current technologies, industrial roles provide the opportunity to grow and advance within the career, giving you the chance to be a key part of its evolution. 
Getting started is easy
It's easy to get your foot in the door at local manufacturers in your region. Partner with ETS, and we'll handle this process for you! We'll introduce your unique talents to our top level connections. 
Many of our entry-level manufacturing careers require little to no previous experience, with the ability to start as early as tomorrow. 
Your skillset can translate
Many of today's common workforce skills can be easily adaptable in any manufacturing career. Your ability to be dependable, pay close attention to detail, handle multiple tasks, and use high-level communication skills are all valuable assets that manufacturers are looking for. 
Your skillset will be able to translate to a new manufacturing career no matter what industry you worked in prior. At the same time, you'll also gain a whole new set of skills that will be crucial across industries.
Manufacturing roles are able to fit a wide variety of needs
With different shifts, skill levels, pay rates, and facilities available – you're bound to find something that meets your needs. Pick something you're interested in and go from there! There's plenty of in-demand manufacturing careers that will meet your expectations. 
Ready to be a part of this rapidly growing industry? ETS can help you navigate a strategic path toward a rewarding career in manufacturing. Search manufacturing jobs now, or live chat the ETS team to get started!