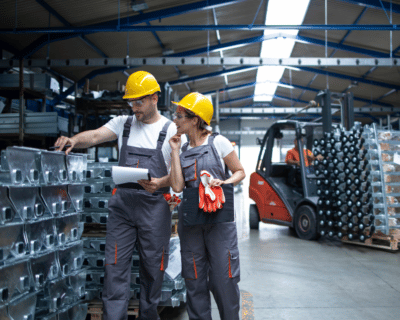 The manufacturing industry is booming, now more than ever before. At ETS, we are experiencing significant momentum throughout industrial careers in the Champlain Valley.
Manufacturers serve as essential businesses in today's landscape. The pandemic has made companies reevaluate their benefits, pay rates, and incentives to make continuous improvements for their employees. Because of this, you can expect higher compensation and excellent perks when looking at careers in the manufacturing industry.
Advancing your career in manufacturing is easy, and there's plenty of roles to choose from that will fit your interests and skill set. If you are thinking about making a career switch – now is the right time. These manufacturing roles provide the opportunity to work in advanced facilities, where you can start a meaningful career with growth on the horizon:
Machine Operators
Operates various types of machinery, while interpreting blueprints to ensure equipment is performing correctly to keep production goals on track. Also responsible for monitoring and troubleshooting machines as needed. 
Local Pay Rates: Up to $19.00/hour
Warehouse Associates
Also known as Shipper/Receivers or Picker/Packers, these positions are primarily based in warehouses or distribution centers. Warehouse associates are responsible for preparing and packing items for shipment. This is often a fast-paced position, where teams work together to meet tight deadlines. 
Local Pay Rates: Up to $18.83/hour
Welders
Uses various welding techniques, methods and tools to join and repair metal materials according to blueprints and specifications. Popular welding roles in the Champlain Valley include TIG and MIG welding. 
Requirements: High School Diploma/GED, Vocational Training, and/or Certifications/Apprenticeship
Machine Technicians/Maintenance Technicians
For Machine Operators with a past technical background, a technician role may be the right fit. Technicians are responsible for machine installation, diagnosis and repair along with performing preventative maintenance.
Local Pay Rates: Up to $23.90/hour
Material Handlers/Forklift Operators
Maintains production and distribution of products, while pulling materials from inventory. Material Handlers/Forklift Operators safely load and unload materials to/from trailers or trucks.
Requirements: Forklift Operators must be certified
Assemblers
Tests, repairs, and assembles complex components of complete units. Performs assembly according to blueprints, product specifications and quality standards. Popular Assembler roles in the Champlain Valley include mechanical, electrical, IT and pneumatic assembly.
Local Pay Rates: Up to $19.89/hour
CDL Drivers
Transports, and may deliver/unload commercial motor vehicles from production sites to customer locations. CDL drivers will make trips in the area and sometimes across state lines.
Requirements: CDL Class A, B, or C license depending upon vehicle
Industrial Electrician
Performs a variety of functions related to electrical controls, equipment, and wiring in an industrial facility or worksite. Tests, troubleshoots, installs, and repairs electrical components.
Requirements: High School Diploma/GED,

Vocational Training, and/or Certifications/Apprenticeship/Journeyman. Previous commercial or industrial electrician experience, or previous lineman experience.
Ready to shift your career into one of these in-demand roles, and be a part of this rapidly growing industry? ETS can help you navigate a strategic pathway to a rewarding career in manufacturing. Our recruiters are here to help you find the right fit – with local insights, confidential advice and career guidance. Search manufacturing jobs now, or live chat the ETS team to get started! 
*Not sure you're ready to launch a career in manufacturing just yet? Ready4Real powered by ETS is launching an exciting new skills training program this summer in Plattsburgh, NY that will be accessible to a wide range of community members. This 8 week program will provide hands-on training to jump start a career in manufacturing. Focusing on the industry's most in-demand technical and work-readiness skills, giving you the confidence you need to succeed. The program is free to enroll in, and provides revolutionary support to qualified participants for rent, child-care, transportation, clothing and more. E-mail the Ready2Create team at Ready4Real@etsjobs.com to learn more!