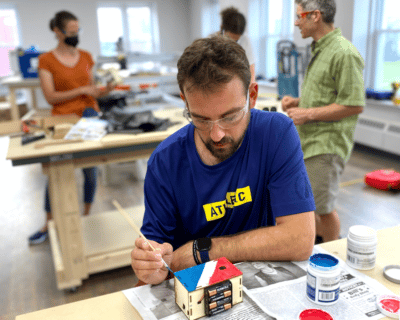 This blog series will chronicle the Inaugural Ready2Create class. R2C is an 8 week hands-on training session to prepare students for a career in manufacturing. The class is being held at the brand new MakerSpace at the Strand Center of the Arts in Plattsburgh, NY. Follow along the journey of 10 students from all walks of life. 
Weeks five and six of our Ready2Create employment training program were brimming with educational opportunities, activities, and projects that are relevant to the participant's career paths.
We started the fifth week by reviewing situational judgement scenarios related to employment. This sparked discussions about effective communication, including how to handle difficult situations for optimal success with co-workers, and how to keep a safe workplace. "Situational Judgement" is a topic of one of the four parts of the National Work Readiness Credential assessment that the class participants are taking. Reading, math, and active listening are also included in the assessment. 
To further the discussion of safety in the workplace, the class participated in a NYS-compliant sexual harassment prevention training, where each earned a certificate upon completion. Their future employers can rest easy knowing that R2C has taken care of this mandated training. 
The class also learned 5S – an organizational methodology used in manufacturing designed to help build a smooth-flowing work environment. Participants got a taste for how to design an efficient assembly system by taking part in a simulated group activity. As a team, they came up with a plan for the production of "color bricks," bricks made from paper bags. They tested their plan and revised the strategy as inefficiencies in the system were identified.  
The group toured Mold-Rite Plastics where they got to see 5S processes live and in action! A guide led them through this state-of-the-art facility where plastic bottle caps are produced while describing many of the jobs that are available there. Machine Operators, Material Handlers, Packers, Warehouse Workers, and Quality Assurance Specialists were just some of the positions they were able to see firsthand. 
Week six led us to an introduction on electricity and electrical assembly. Participants were able to apply their new knowledge and skills by each assembling a Bluetooth speaker and designing the exterior box. Each of the speakers successfully connected to a phone and played music. We are looking forward to seeing the team's independent projects in the final weeks of the Ready2Create program!
Stay tuned for our final blog in which we will chronicle the student's experiences with interviewing and sifting through the myriad job opportunities that will be available to them in just 2 weeks! It will be exciting to see where everyone lands. 
And, the experience doesn't stop there! R2C team members and ETS staff will be there every step of the way as the students navigate their first weeks EMPLOYED in a manufacturing setting.