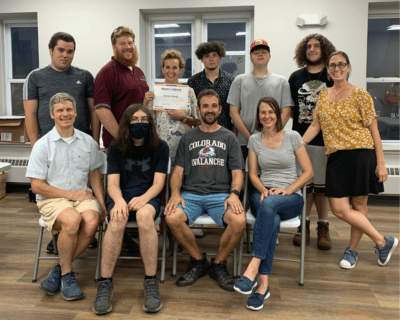 This blog series will chronicle the Inaugural Ready2Create class. R2C is an 8 week hands-on training session to prepare students for a career in manufacturing. The class is being held at the brand new MakerSpace at the Strand Center of the Arts in Plattsburgh, NY. Follow along the journey of 10 students from all walks of life. 
What is Arduino, you ask?! Week 7 of the Ready2Create manufacturing employment training program brought us up close and personal! Arduino is a simple and accessible hardware software used to program electronics. Arduino features a combination of circuits, coding, DIY, problem-solving, and creativity that brings together thinking across disciplines. Our class learned the basics of electronics and programming. We built various electronic devices, including a programmable night light and RC car. 
For our final week of class, the participants completed individual final projects, which gave them each an opportunity to apply their newly-learned skills, and deepen their overall knowledge. The MakerSpace was buzzing with carpentry projects, a more advanced Arduino-programmed toy car, a 3-D printed organizing tool, and a laser engraved project. Each of these projects utilized skills such as efficiency, organization, attention to detail and responsibility – all important components for success at work!
We are feeling confident sending each participant out to explore their new career paths. The take-aways from the Ready2Create program are different for each participant. For some, the hard skills and experience with tools was the most enticing. For others, honing interpersonal skills required to overcome social hesitations and interact with classmates was the biggest takeaway. 
The ending of our summer program is bittersweet. We will miss our time together – which has become more comfortable each week as friendships have deepened. However, we are happy to see everyone on their own paths! 
So far, we've had the following successes and outcomes from R2C students after they graduated the program: 
1 placement at MRP

2 placements at CVPH

1 at Salerno in a Quality Control role

2 placements at Northeast Group

2 more interviews in the next week
The support doesn't end here. Ready4Real and ETS will continue to lend a helping hand to program graduates as they navigate these next steps.
"The Ready2Create program showed me that there is so much more that I just wasn't seeing, that I definitely do enjoy," said Austin, Ready2Create participant.