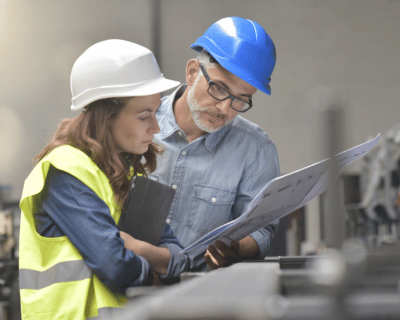 Struggling to find the right industrial career? It may be time to revamp your resume. 
As a manufacturing candidate, you likely have a strong set of skills that can be translated through a number of different roles, but it's important to make sure this is communicated in your resume. You'll want your resume to stand out from the rest – not get lost in the pile. 
With our experience, we know what manufacturers are looking for in today's market. Here are the skills that will help make your industrial resume stand out to employers:
Attention to Detail
Whether you're operating machinery, stocking boxes, or performing quality control checks – attention to detail is crucial in manufacturing careers. Precision and efficiency are needed in industrial environments to meet deadlines, and both of these require a keen attention to detail. Use your resume to showcase how you handled multiple tasks at once, remained organized, and spotted any errors in your previous work experience. 
Teamwork
When you're working in a factory setting, you're likely surrounded by other individuals performing a similar role to yours. You'll be expected to get along with these people, and work successfully with them. Show employers how you're a team player with previous teamwork experiences on your resume.
Problem-Solving
Problems are going to arise in any workplace setting. Explain your ability to solve these issues and how you came to an effective resolution. When you work in manufacturing, unexpected problems are likely to arise from time-to-time and you'll be required to think quickly on your feet to make a decision. Show employers your ability to problem solve with a specific scenario on your resume. 
Dependability
Highlight your ability to be dependable. Sometimes this can be difficult to reflect on a piece of paper, but it can be shown through your work timeline, previous experience, and references.
Reinforce the idea that you will be dedicated to work and that your team can depend on you to get the job done. 
Excellent Communication
Verbal and written communication skills are essential in any manufacturing role. The ability to communicate effectively will reinforce your teamwork abilities to achieve overall company goals. 
Communication needs to be open and honest in a manufacturing environment, so be vocal on your resume about it. Share how things went wrong, how you asked for help, how you wrote detailed notes – anything that will reinforce the idea of successful communication techniques. 
Hands-On Training
You'll want to emphasize any hands-on training through previous roles or courses. On-the-job training allows you to better develop your skills. This will show employers that you have real experience and can apply that to their workforce. 
Whether you're just starting out in manufacturing or have been in this industry for years, it's crucial to revamp your resume every once in a while to ensure it stands out among the rest. 
ETS is here to help you navigate the job search process, from fine-tuning your resume to setting up interviews and making sure that you find a job that best fits you! We are experts in the industrial job market, and know exactly what it takes to find the right role in this industry. With over 300 openings available, we'll make sure you end up with a job you love. Live chat with us today to start your partnership with ETS.