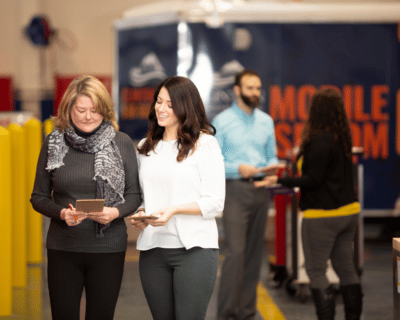 If you've never partnered with a recruiter before, you may have some questions. How does the process work? How will I benefit from this partnership?
We're here to answer all of your questions, and show you the advantages of a strong, long-term recruiter relationship. Partnering with a recruiter gives you the power to take your career to the next level, giving you access to exclusive opportunities and first-hand industry insights. 
It's important to start your partnership with a recruiter very early on in your career journey. It's ideal to establish this relationship before you need it rather than when you need it. 
Here are some ways you can create a successful partnership with a recruiter:
Put in the Time & Effort
There are a number of ways to start your partnership. The first, and easiest way, is to apply at etsjobs.com/job-search. Find a job you are interested in and apply directly. The good news is, this means that you are applying to more than just that one job (in fact, many of our roles never even make it to the job board). When you put in the time and effort to make that first interaction, a recruiter will reach out, get to know you, and give you direct access to jobs that fit your skillset and industry. 
Making that first move will be influential to your career journey, allowing you to start out on the right foot and begin a successful partnership. 
Set Clear Goals
What are you looking to achieve by partnering with a recruiter? In most cases, you're striving to find your next great career. 
Your recruiter will want to get a brief understanding of your career goals, expectations and what you hope to achieve from this partnership. Do you want to start a job immediately? Are you already employed and hoping to find a new role in the next 3-6 months? These are things you will want to have answers for and tell your recruiter from the beginning. 
Be Responsive
Touch base with your recruiter on a regular basis, and communicate with them frequently. If they are trying to reach you, be responsive and willing to talk to them. The most successful recruiter partnerships are the ones that have consistent, honest and open communication. 
When you partner with a recruiter at ETS, they'll offer you the expertise and insights you need during your job search. Not only that, but they will also give you direct access to jobs that aren't made public at some of the top companies in the region.
Our recruiters strive to set you up for success from your very first interaction, and will make sure they find you the right fit. To start your partnership with an ETS recruiter today, live chat with us now!