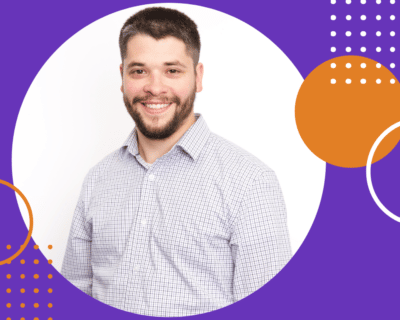 Meet Eric! His local roots, combined with his positive outlook and competitive nature (all in good fun of course!) are just a few things that make him an integral member of the ETS team. Learn more about Eric and his role as a Senior Recruiter below.
Describe your role at ETS.
As a Senior Recruiter, I make personal connections with members of our community to learn their interests, wants and needs when it comes to a life long career. After taking a deep dive to understand their unique experiences and circumstances, I show them opportunities where I know they can be successful. 
Describe your path to your role at ETS.
I graduated from Beekmantown High School in 2011. From there, I continued my education at Clinton Community College and worked as a waiter at the Butcher Block restaurant here in Plattsburgh. After graduating from CCC, I got my first job at North Country Garage Doors, then accepted a Sales Associate position at Curtis Lumber. It's with this combined experience and background that led to me happily accepting the Industrial Recruiter position with ETS. One promotion later, in April I will have been with this awesome company for two years!
Reading anything good, currently binge watching something, or listening to any good Podcasts right now?
I listen to ESPN radio on a daily basis, and I love country music. As for my favorites on Tv, I enjoy the outdoor shows, some of my favorites are Life Below Zero, Mountain Men, and of course all sports!
What's your favorite part about living in the Champlain Valley?
The endless outdoor activities, I am an avid Hunter and Fisherman. I also love camping with my friends and family.
Any claims to fame or unique facts about yourself? Maybe you won an air guitar contest or won a lifetime supply of Ben & Jerry's in a raffle?
I was the raffle winner of a 1 week vacation to a lake house in Vermont , from 101.3 ESPN Radio!
What's a superpower you've always wanted and how would you use this power?
Teleporting, you could go visit anywhere in the world for the day!
Name something that makes your job feel rewarding.
I love helping out people who truly want it the most, when they land the job and they're so thankful, it is very rewarding. 
What's your favorite local restaurant?
Mickey's!
What was your first impression walking into ETS?
How nice and welcoming all of my teammates were.
How do you take your coffee?
With a splash of Hazelnut creamer.
Ready to launch your career? Connect with Eric by phone at 518.324.3126 or Facebook.