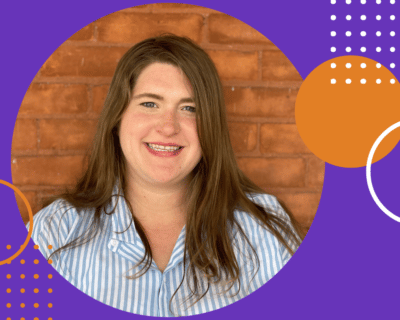 Meet Allie Gidcomb! As the ETS Customer Success Associate, she wears multiple hats and delivers top-notch customer service to help our talent network navigate every step of their career search process! She typically has her hands full taking care of a growing family and puppy, but that doesn't stop her from embracing all that the Adirondacks has to offer. Allie's ability to quickly learn new skills is just one of the reasons she is a rock star member of the ETS team. Learn more about Allie and her role as the ETS Customer Success Associate below.
Describe your role at ETS. 
I wear a few different hats. At the end of the day, I'm the face that our candidates see. I'm here to walk them through every step of the process from walking in the door and looking for a new career to months later wanting to update tax and payroll information. My job is to make sure that my team succeeds and that you succeed! 
Reading anything good, currently binge watching something, or listening to any good Podcasts right now?
Oh man, I wish I had time to sit down and binge watch something. Between a full-time job, a part time job, a toddler, and a quickly growing Siberian Husky pup the only thing I'm binge watching is my little family grow up. 
What's your favorite part about living in the Champlain Valley?
I love the Adirondacks. I spend a lot of time in the summer and fall hiking, travelling, and sight-seeing in the area. 
Any claims to fame or unique facts about yourself? Maybe you won an air guitar contest or won a lifetime supply of Ben & Jerry's in a raffle? 
I won a pair of diamond earrings on a cruise once! I was surprised because I never win anything. I've also been in the news a few times…  I just happened to be at the right place at the right time.
What's a superpower you've always wanted and how would you use this power? 
I would love to be able to teleport with anyone of my choice. There's so much world to see, so little time. Plus how cool would it be to go to Hawaii for your lunch break?
What's the strangest question you've heard in an interview?
"If you could have any animal represent you, what would it be and why?" I actually really enjoyed this question as well. 
Name something that makes your job feel rewarding.
I love that I'm always developing new skills – I'm a human sponge and when it comes to information I'll take every bit that you can give me. 
What's your favorite local restaurant?
It's so hard to choose. I'm going to have to go with SIP!
What was your first impression walking into ETS?
That I was joining a team that really cared about their coworkers, employees, and candidates. My opinion hasn't changed. I'm very proud and thankful to be a part of ETS.
How do you take your coffee?
I'm a sucker for fruit flavored coffees (blueberry, strawberry, etc) with regular cream and sugar.