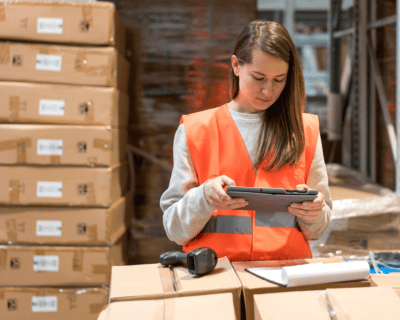 Throughout 2022, we're highlighting some of the most in-demand careers, and this week we're exploring warehouse roles. Warehousing is one of the most vital components of the supply chain process, as warehouse's store raw materials, semi-finished, and finished products for manufacturers.
Individuals that work in a warehouse setting are responsible for receiving, storing, fulfilling or processing inventory according to orders and store policies. They also organize and maintain inventory, perform product inspections, track shipments, and review invoices. 
Warehouse positions are ideal for job seekers who are searching for both entry-level or more advanced roles. Many companies hire warehouse workers without any previous experience in a manufacturing environment. If you're looking to make a career switch to this industry, warehouse is a great place to start! 
Watch out for these warehouse roles in 2022:
Warehouse Associate 
As a Warehouse Associate, your key responsibilities will include receiving and processing various stocks and materials, filling, packing, shipping and loading orders, while managing and retrieving stock. These roles can also be identified as Picker/Packers, Warehouse Clerks, Shipping Specialists, and Warehouse Workers. 
Local Pay Rates: Up to $18.50/Hour
Shipping and Receiving Clerk
Shipping/Receiving Clerks perform very similar tasks as a Warehouse Associate. Their day-to-day includes processing orders via softwares, identifying appropriate packaging, creating custom packaging as needed, and tracking inventory or shipping/receiving logs. 
Local Pay Rates: $17/Hour 
Material Handler/Forklift Operator
Material Handlers and Forklift Operators both typically work in a warehouse environment. These roles focus on the production and distribution of products, while pulling materials from inventory and safely loading/unloading materials from trailers or trucks. These jobs typically require a forklift certification.
Local Pay Rates: Starting at $17/Hour
Does a warehouse position sound like a good fit for you? Now is the time to join this booming industry, and ETS is here to help! Our recruiters will guide you through the job search process to ensure that you land a rewarding career. Search warehouse jobs now, or live chat the ETS team to get started!