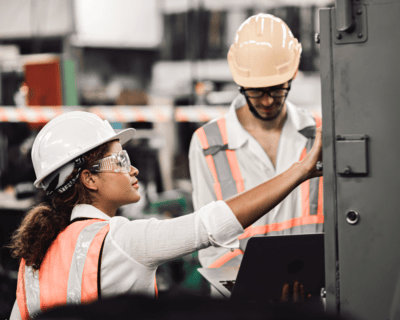 It's time to highlight another prominent career in manufacturing – Machine Operators. 
Demand for Machine Operators is evident, and spans across the manufacturing industry. Their role serves as a vital component in multiple industrial settings. 
Machine Operators, often referred to as Machinists, are laborers who typically specialize in one type of machine. They use heavy machinery to complete a variety of tasks and perform regular maintenance and repairs. They will also ensure production deadlines are met by maintaining overall system effectiveness and meeting safety guidelines. 
Machine Operator positions are ideal for those with previous experience or without. Most companies will require on-the-job training for individuals to gain hands-on experience and better understand job specifics. 
Keep an eye on these Machine Operator jobs throughout 2022:
CNC Machinist
A CNC Machinist will review schematics to interpret information and program computer numerical controlled (CNC) machines. They will work hands-on with CNC machines to create parts from metal, plastic and other materials. 
Local Pay Rates: Up to $19.50/Hour
Production Operator 
Production Operators ensure that deadlines are met and operations are efficient in a manufacturing facility. They will set up, run and maintain machinery, while observing and troubleshooting the production line process. 
Local Pay Rates: Starting at $17.50/Hour
Fabricator
Fabrication is performed using heavy machinery and typically involves sheet metal.  Fabricators are responsible for bending, punching, cutting, welding or powder coating using a precision fabrication machine. Fabrication is a more specific type of manufacturing under the machinery category. 
Local Pay Rates: Up to $19.80/Hour
If you're ready to dive into the field of Machinery, ETS can help! Now is the time to join this booming industry, and you've come to the right place. Partner with an ETS recruiter, and they'll guide you through the job search process to help you land a rewarding career. View Machine Operator jobs now or live chat with us to get started!