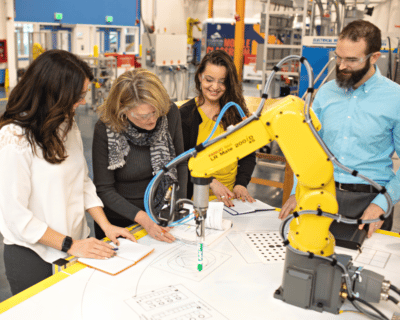 Careers in manufacturing are flourishing. The industry is seeing significant momentum with the increase in demand, production and advanced technologies. Because of this, it has become significantly easier to jumpstart your next career in manufacturing.
In 2022, industrial roles are forecasted for growth – which creates many opportunities for job seekers like yourself. Manufacturing provides individuals with endless opportunities, such as the ability to work in advanced facilities that are making a difference in your local community. 
Throughout the new year we will be highlighting some of the most in-demand manufacturing careers. Assembly is where we'll start. 
Assemblers test, repair, and assemble complex components of complete units. They perform assembly processes according to blueprints, product specifications and quality standards.
Keep an eye out for these Assembler jobs in 2022:
General Assembler
As a General Assembler, you will follow blueprints to complete the assembly process. Your primary duties will be to correctly place and attach parts to create a finished product. You may also assess or test the finished product, report any errors, or make repair requests.
Local Pay Rates: Up to $18.50/hour
Technical Assembler
A Technical Assembler will perform complex electrical or mechanical assembly. In this role you will need to understand pneumatic assembly processes and read electrical blueprints. The company will likely require previous experience for this role.  
Local Pay Rates: Up to $19.89/hour
Production Assembler
A Production Assembler pieces or solders together different parts of manufactured products while using various hand tools and working in a production line. They assemble finished products and also perform quality checks.
Local Pay Rates: Starting at $15/hour
Ready to be a part of this rapidly growing industry as an Assembler? ETS can help you navigate a strategic pathway to a rewarding career in manufacturing. Our recruiters are here to help you find the right fit – with local insights, confidential advice and career guidance. Search Assembler jobs now, or live chat the ETS team to get started!