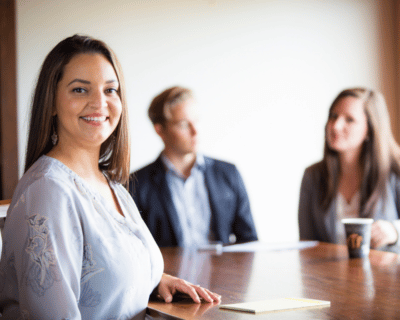 The interview process is over. And good news, you can breathe a sigh of relief. But, how can you tell whether or not you've nailed the interview? There should be a few notable signs during and after the interview that will lead you to believe it was a good one.
Sometimes the job search process can be filled with uncertainty, but we're here to ensure you feel confident about the entire process. 
Here are six ways to tell if an interview was successful:
The conversation was easy
If the conversation flowed naturally, that's usually a good sign you aced the interview. Nothing should feel forced.
A healthy flow of conversation means you will likely go over the allotted interview time, which is also positive reinforcement.
The interviewer was engaged
Along with a natural flow of conversation, you'll also know when an interviewer is engaged with your answers. Their responses to your answers will show whether or not they're really paying attention. 
Eye contact and body language are key elements you'll want to take into account during your interview. 
They gave you a timeline for next steps
At the end of the interview it's always a good sign if they've given you a timeline for next steps and when to hear back. If they're providing these details, this usually means they want you to be in the loop. 
Not only is this a good sign for you as a candidate, but also shows that the company you're working with is transparent along the process.
The follow-up was quick
The quicker the follow-up the better – especially when you write a thank you note after the interview. A quick reply to this email is a good indication that you're top of mind. 
To ensure you stay top of mind, consider partnering with an ETS recruiter. We'll introduce your unique talents to our connections – scoring you an interview at top employers in your area. Our recruiters will also handle the pre and post interview process – ensuring that you get quick, prompt responses from start to finish.
The interviewer gave good feedback to your recruiter
When you work with a recruiter at ETS, they'll be your own personal advocate during the interview process. And if they gave your recruiter good feedback right after the interview, this is usually a sign of a successful interview. 
You learned a lot about the company
While an interview is an opportunity for the employer to learn about you, it's also a chance for you to learn more about the company. If the interviewer is willing to share a lot of details about the business, this is typically a good sign. Plus, you'll get a better feel of the company's culture, values, and ultimately what it's like to work there. 
At ETS, our process is easy and stress-free to ensure you find the right fit. Our expert recruiters will help you handle your job search from start to finish – helping you craft a thoughtful resume, scoring you an interview, and being your personal advocate throughout the entire process. Live chat with us now to ensure you nail your next interview!