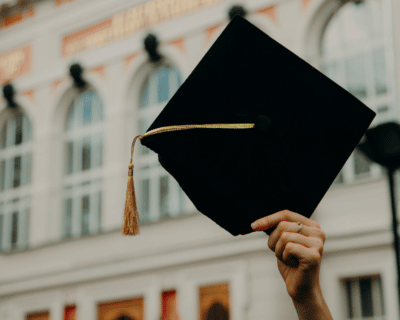 It's graduation season – so what's next? While this may be a daunting question, it's something you'll want to seriously consider. 
Whether you're graduating from highschool or college, now is the time to explore this next chapter of life. With your diploma in-hand, a career is on the horizon – but, how do you get there?
Today's job landscape is constantly changing and at times, it can be difficult to navigate. Especially for recent grads. 
We're sharing our tips to help you land a job after graduation:
Make a Plan
Before you graduate, make a game plan. Give yourself the time you need to research potential roles, update your resume and brush up your interviewing skills. 
Map out your job search from the beginning and be prepared. Know which platforms you're going to use and have a list of potential jobs you want to apply for. Start out slowly and then progressively finetune your approach as you go on. A job search after graduation can be a lengthy process, so be realistic and stay positive – the right role will come around when you least expect it!
Gain Hands-On Experience
Now that you've earned your diploma, you'll want to gain relevant experience in your desired field. Look into opportunities that will allow you to test out a potential career in a certain industry. Hands-on experiences, such as training initiatives and internships, are typically short-term commitments that will enhance your resume and expand your overall skill-set.
If you're looking to venture into the manufacturing industry, we have an opportunity for you! Powered by Ready4Real and ETS, Ready2Create is a 6-week FREE program designed to help you gain hands-on experience, learn in-demand skills and jumpstart a rewarding industrial career. Our Summer Ready2Create program begins in July – for more information and to register for our kick-off session, click here. 
Expand Your Network
Take the career network you already have and expand it. Attend career fairs and networking events to establish connections in your desired industry. 
Ask your current connections to introduce you to their peers. From there, continue this same process and build your network to a wide range of individuals in all sorts of professions. At least one of these individuals will have the right connections to get your foot in the door at a potential company. 
Stand Out From the Crowd
Use non-traditional ways to navigate your job search. Be unique with your approach and think outside of the box. 
Be creative with your resume and message employers first. By only applying to job boards, you face the risk of blending in with the rest of candidates. Do your best to stand out and stray away from the status quo.
Partner with ETS
Don't be afraid to ask for help! One of the quickest ways to find a job after graduation is to connect with a recruiter or partner with a staffing agency. 
At ETS, our recruiters will take the time to understand your vision and long-term goals after graduation, while expanding your network significantly and introducing you to top-level hiring managers. We'll help you find a career that is right for you – offering confidential guidance, advice and support along the way. Live chat with us now to find out about opportunities we have ready for you!