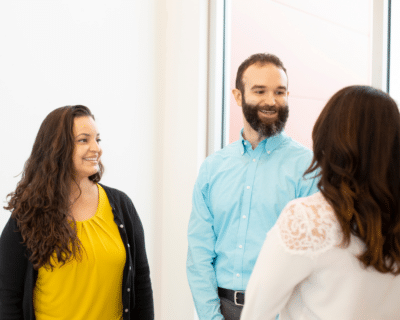 Confidence doesn't come easy for anyone – especially those navigating today's job market. The unknown can be a challenging thing to overcome. However, the best way to combat job seeker nerves is to boost your self-esteem as much as possible. 
The good news is, there are so many different tactics and resources available that will help boost your confidence during the job search process. Here's our guide to gaining confidence as a job seeker:
Seek positivity
Seek positivity wherever you can. Ask for advice from others in your field or those you look up to. When you put out positive energy into the world, you'll get the same in return.
Recognize your accomplishments
Recognize how far you've come during your job search and all of your past accomplishments. It's important to be kind to yourself and realize that everyone has been on this same journey one time or another.
Prioritize preparation and goal setting
Confidence comes from the right preparation. Take the time to set goals, research the job market, revamp your resume and conduct mock interviews. Prioritize these initiatives and you'll enter your job search with the right mindset. 
Have a clear vision
Employers like to see a sense of ambition and self-understanding among candidates. Set clear visions for yourself and map out yearly career goals. Having a clear understanding of your future is a crucial part of making your goals tangible. 
Take a step back
Look at things from a different perspective. Take a step back and really think about your past experiences and what you want. Maybe it's time to switch paths or look for new responsibilities. Whatever the case may be, give yourself the time to recognize the situation you're in and how you can grow from it. 
Ask for help!
It's perfectly okay to seek help during your job search. In fact, we encourage it! When you partner with a staffing agency, like ETS, you can immediately breathe a sigh of relief. Our simple (and FREE) process will ensure that finding your next job is easy and stress-free. Partnering with ETS is the ultimate confidence booster for those navigating today's job market.
Live chat with us today and we'll set you up with an expert recruiter who will give you direct access to top area employers in your region!