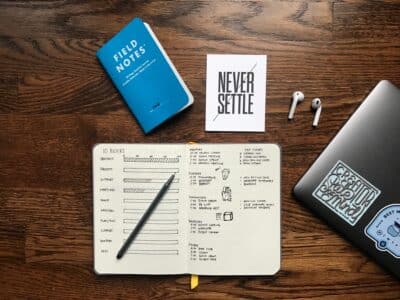 When it comes to creating a career road map, you are the only one who should be in the driver's seat. We are each on a journey to achieve our professional goals, but likely, this adventure is filled with twists and turns. 
To ensure you are on the right road to success, a career map is essential. This is a useful tool to help guide individuals towards their goal. Sometimes, strategizing your professional journey can be a difficult process – that takes sufficient time and energy. But, it is imperative to outline these steps to shape your career. 
To help you through this, we've put together tips to ensure you're on the right path to achieve your career aspirations: 
Define Your Goals
Defining your goals starts with you. Assess your strengths and weaknesses to better understand where you excel and the areas you need improvement. From there, it will be easier to identify clear objectives. 
Write down a list of short-term and long-term career goals – be specific. Define the exact roles you want, their descriptions and how you will grow as a professional in each. 
If you're not already working in your desired field, describe how you're going to get there. If you are currently in an ideal position, design a map for growth within that company.
Strategize a Timeline
Once your goals are defined, the next step is to create a timeline. Map out your mile markers – when do you want to achieve your short-term and long-term goals? 
Essentially, the choice is up to you. But, to set yourself up for success, define your timeline with numerical markers. Be realistic, but also push yourself to go the extra step. Whether you're mapping it out by specific ages or years, identifying a time frame will allow you to stay on track throughout your professional career. 
Find Your Network
Networking is an essential part of every job search process. It is even more important as you define your professional future. By creating connections with individuals, you are able to explore new opportunities. Once you expand your network, you will hear fresh perspectives and understand industries outside of your own – opening up a world of possibilities.
Recruiters play a key part in the networking process. ETS Recruiters have direct relationships with hundreds of hiring managers. Their insider knowledge can help guide you to get the information that matters beforehand. Acting as a mentor, they'll give you confidential advice, guidance, and exclusive local hiring insights.
Be Intentional
Choose opportunities with thoughtful consideration. Keep in mind your timeline and goals. If the position or opportunity is not going to benefit either of those, look elsewhere. Be intentional with every decision you make because it will impact your career path. 
Look for roles that will allow you to grow, learn and be one step closer to achieving your long-term goals. 
Believe in Yourself!
Know that everyone is on their own career path. Do not look to others as competition, but instead focus on yourself and your professional goals. 
You may hit roadblocks along the way, but don't allow them to diminish your drive and determination. Focus on yourself and treat each bump in the road as a learning opportunity. The key to success in any career is believing in yourself. 
Let ETS help you navigate your career roadmap in the driver's seat. Our expert recruiters understand what it takes to accomplish your professional goals, and are there every step of the way. Live chat the team now to connect.