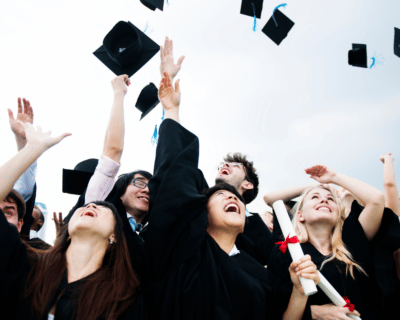 College graduation is right around the corner, so what's next?
It probably seems like everyone around you is asking you this – even yourself. For most, the answer is probably unknown, but that's OK! You have your whole life ahead of you, but your career path after college can sometimes be a difficult path to maneuver.
As you navigate this next chapter of life post-college, keep in mind these tips: 
Start Early & Make A Game Plan
It's never too early to map out your job search. Attend career fairs, research potential companies, and revamp your resume as soon as possible in your senior year. If you get a jump start, you'll likely feel more at ease once graduation hits. 
To keep yourself on track, come up with a game plan and set goals for yourself. Plan the applications you'll submit each week, and follow this closely to meet your personal objectives. 
Keep Moving Forward 
Use every interview, career fair, and job application as a chance to learn and grow. Be patient with yourself, finding a job doesn't happen overnight. Don't be discouraged by rejections, because they're inevitable. Instead, take each situation as a learning experience and keep moving forward. Follow guidance from others and ask for advice when you need it. 
Make Connections
Build relationships before you need them. Make it your mission to attend career fairs and networking events. Once you establish connections with professionals you'll likely find someone in your field of interest. 
Start by making a connection with an ETS recruiter, it's easy! We can work together to find a career that is right for you – expanding your network significantly, and introducing you to top level hiring managers. 
Have Reasonable Expectations
Find the right balance. It can be difficult to stand out when you're using a "one size fits all" approach to your application process. Make tweaks to each opportunity you pursue, investing the time to research companies and apply to jobs that will fit your skills and background. 
It will be impossible to keep track of hundreds of applications – so instead, have reasonable expectations that the handful of applications you submitted will turn into the opportunity you're looking for.
Take Advantage of Opportunities
Every opportunity is a chance to grow as an individual. Take advantage of everything that comes your way and be responsive to change – you'll grow more as a person that way. Keep in mind that your first job may not be your dream job, but a stepping stone to get you one step closer to your perfect fit. 
At ETS, our recruiters take the time to understand your vision and long-term goals. They will also give you confidential advice and guidance throughout the job search process after college. Live chat us now to find out the opportunities we have ready for you!