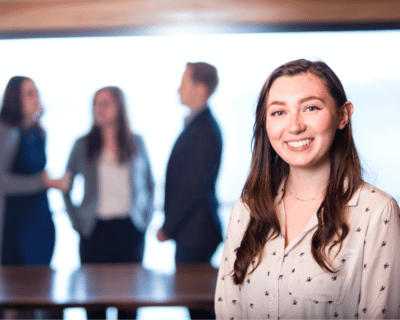 As a job seeker you may be struggling with how to separate yourself from the pack. Learning how to be a unique and distinguished candidate during your job search can go a long way, but it takes a lot of hard work and energy. 
We're sharing our top five ways to leverage your application and interview process to rise above the rest, helping you become one step closer to finding the right fit: 
Avoid Generic Responses 
A key way to stand out as a job seeker is to be your true, unique self. Leave the generic responses at home and have thoughtful, honest responses to questions asked during an interview. 
The same thing applies to your resume as well. Avoid generic phrases used in cookie cutter resumes and come up with your own perspective to share based on your skills or past work experiences. 
Show Initiative
Showcase a clear interest in what the company does and the things they are passionate about. This will be a clear indication of your initiative towards the company and role. 
Another way to show your sense of drive is to explain a specific project you worked on and your efforts to be a self-starter. Be proud of your work and verbally express your efforts to take initiative in the workplace. 
Do Your Research
Read the job description in-depth before the interview, and make sure you understand the role. 
Do research on the company before you apply and go through the interview process. Look up their website, social media pages and read reviews. All of this will help you understand what they do, who their employees are, and the types of values they hold. 
Be Excited and Personable
This goes hand-in-hand with research. If you feel comfortable and have a good understanding of the company prior to applying, you'll be able to nail that interview and stand out from the crowd. This will allow you to be personable and excited during the entire interview process, and show that you care about the company. 
Make sure you are following up with companies after each interview. Share takeaways you learned and your eagerness to be a part of their team. A well-thought out email can go a long way.
Connect with an ETS Recruiter
Avoid over-crowded job boards, and instead work with ETS! When you partner with one of our expert recruiters, they'll introduce your unique talents to our top level connections – allowing you to stand out from the crowd. We'll work with you one-on-one to help you find a role that will fit your skill set and needs. 
To get started, live chat with us today and set up an appointment to meet with a recruiter. Already have one? Contact them directly!