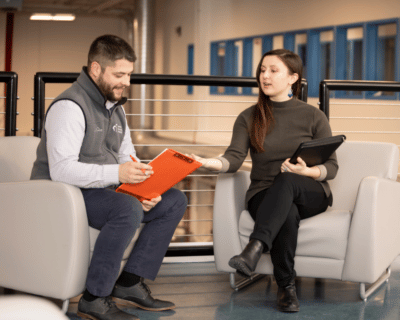 With the end of the year quickly approaching, employee evaluations are in full swing. As an employer, it is your responsibility to conduct one-on-one evaluations to let your team know how they're performing.
Without regular reviews, your team won't be aware of their strengths, weaknesses and future goals to strive for at your company. Evaluations serve as an instrumental tool to help you and your employees determine if they are the right fit for their current role. 
Here are six reasons why employee evaluations are crucial today:
Evaluate strengths and weaknesses
Evaluations are used to discuss and understand your employee's strengths and weaknesses. After observing their daily behaviors, you should have a good idea of what they excel at and where they can improve. From there, you can identify areas to focus on in the future. 
Regular reviews serve as a key opportunity to improve overall employee performance. When you analyze problems and find solutions, you're setting your team up for success. 
Increase employee engagement 
One of the main benefits of employee evaluations is increased engagement. Regular feedback promotes an engaged and active listener in the workplace. 
When your team is engaged with their work, the company, and the people that surround them, they are much more likely to come up with fresh ideas. 
Strengthen relationships 
Being honest with your employees will strengthen your relationships with them. Employee evaluations give you the chance to sit down with your team and have one-on-one in-depth conversations. 
Encourage your employees to share how they feel about their role during an evaluation. This interaction will positively impact your relationship with them, and they will feel more honest and comfortable about coming to you in the future with any issues that may arise. 
Identify promotion opportunities
When you evaluate your employee's performance, promotions are likely to come up. By providing an overview employee's overall performance, you can better understand if they are able to take on more responsibility or not. 
If they are, this would serve as the perfect opportunity to discuss options for advancement within the company and how you can help them continue to grow in the future. 
Develop career goals
The overarching purpose of an employee review is to gauge whether they are a good fit for their current role. This will lead to discussions about future career goals and how to achieve them. The feedback you provide in an evaluation is incredibly valuable to an employee and their future success at the company.
Outsource your busy work with ETS – we'll find you top talent and can even handle HR, benefits and payroll in-house! Our customized staffing solutions will free up your time – leaving you stress-free and able to conduct employee evaluations on a regular basis. Live chat with us today to learn more about our complete workforce resource.