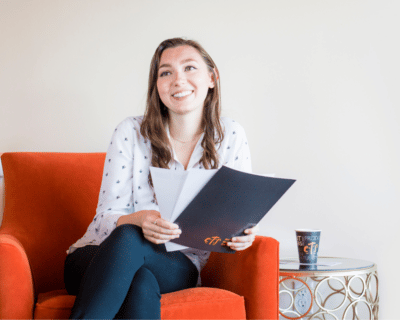 The hiring pool is filled with hundreds of companies looking for the same thing – top talent. It's easy to get lost in the midst. 
To attract top talent, you'll need to provide a unique candidate experience that differentiates yourself from the rest. But, how do you do that? 
From your first interaction, candidate touchpoints need to be infused with culture, brand recognition, efficiency and positivity to truly make yourself stand out. 
Take these tips into consideration next time you want to boost your hiring efforts to attract top talent:
Be Transparent
Be transparent and straightforward from your first interaction with candidates. Set clear expectations from day one. Tell the truth about where candidates are in the hiring process. From there, be straightforward about role requirements and salary to let the candidate know if they will be a good fit. 
Being honest and open in every conversation will give candidates the ability to trust you along this journey. 
Build Your Employer Brand
Weave your employer brand into all aspects of the hiring process, from job descriptions, to company websites and even in-person interactions.
If you don't have an employer brand already established, now is the time to create one. Make sure it clearly describes your company's identity. 
Your brand serves as a selling point to candidates so they can get a better understanding of what it's like to work at your company. You'll want it to represent something that job seekers can relate to. 
Start a Staffing Partnership
If you haven't already – test out the waters and start your partnership with a staffing agency. At ETS, we give our clients immediate access to top-level talent. 
From there, you can skip the job boards and let ETS handle your hiring for you. We will form a trusted partnership with your company to streamline your hiring process and boost your overall reputation among candidates. 
Make the Process Efficient & Easy
Create a system that is smooth from start to finish. Make the application and interview process easy and efficient to keep candidates engaged. Streamlining the process for job seekers will show that you value their time. 
Create a Positive Experience
Job seekers want to feel encouragement and positivity during their career search. Creating a positive experience will heighten the reputation of your business and encourage good word-of-mouth. When you promote a positive candidate experience from the beginning, this translates to all aspects of talent retention – giving you the ability to attract top candidates. 
Encourage past candidates to leave positive feedback on social media platforms, and reply to those sentiments. Whether you like it or not – reviews matter, more than you may think. Make it your mission to encourage positive reviews that are an accurate reflection of your company. 
Showcase Your Culture
Highlight your values and culture throughout the recruitment process. Find unique ways to infuse your culture in the application and during interviews. Identify key touchpoints you want to hit during each interaction with candidates. From those, decide where you are going to show your culture. Be memorable, personalized and creative.
Each of these tips will bring you one step closer to attracting top candidates with a unique experience. 
At ETS, we will get to know your company and take a deep dive into your employer brand to attract the right candidates and provide a one-of-a-kind hiring experience. We'll bring you the qualified candidates you need, while allowing your brand to stand out along the process. Looking to learn more about our customized staffing solutions at ETS? Live chat with us today!