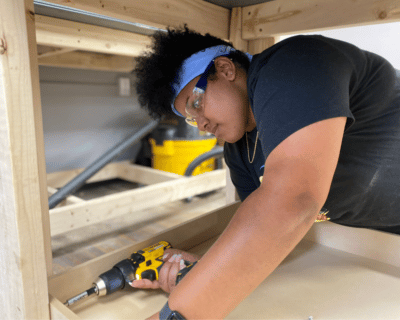 This blog series will chronicle the Inaugural Ready2Create class. R2C is an 8 week hands-on training session to prepare students for a career in manufacturing. The class is being held at the brand new MakerSpace at the Strand Center of the Arts in Plattsburgh, NY. Follow along the journey of 10 students from all walks of life. 
Weeks 3 and 4 of the program featured tours, training and tools.
Over the past two weeks the Ready2Create class has settled into their groove as a group. As relationships and friendships are deepening, so is the content of the programming!
The class practiced honing their carpentry skills – working in two teams to design, measure, cut, and install a large shelf in the MakerSpace at the Strand Center for the Arts. While helping to finish up the space, the class learned valuable skills they can take with them into the workplace. Being able to identify and handle different tools and measure equipment is essential knowledge for any manufacturing job. The class is also using the Strand's new computer lab and 3D printers as they learn how to navigate a digital modeling tool to bring their individual designs to life with 3D printing.
The group welcomed Jordan LeBlanc, SeaComm Federal Credit Union's Business Development Representative, who presented to the class on the basics of financial literacy. The presentation included topics such as: choosing the right job for you/comparing opportunities, banking, tracking your spending, the true costs of credit, and understanding credit scores. Each participant followed up by comparing current and future individual budgets. 
The class is currently completing their OSHA training and National Work Readiness assessments during the eight weeks, which is a crucial step to a successful completion of the training, and will be a great resume builder. This assessment will give students the confidence to talk to potential employers knowing they have the credentials and desire to gain employment in the manufacturing industry.  
The group also toured the AQ Wiring facility and got a close up look at another kind of integral manufacturing process that happens right here in Plattsburgh. Throughout the program they will be introduced to a wide variety of different facilities and positions so they can determine their perfect fit. We have been able to hear feedback and perspectives which has been incredibly beneficial as students tour different workplaces. 
The last two weeks have been pivotal for the Ready4Real team as they assess the types of support that would be most beneficial for each individual to succeed. Transportation is by far the biggest challenge. The NYS grant generously funds all kinds of support services, and we have been able to purchase bus passes, gas cards and even a couple of bikes! 
Stay tuned for what's next!