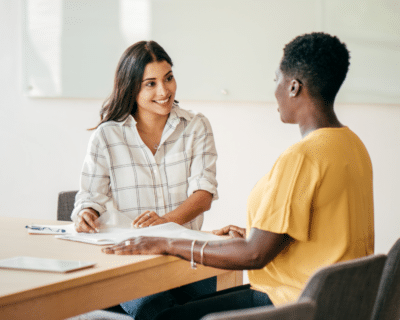 A new pool of talent is about to hit the market – graduates.
New grads are ready to enter the workforce with full steam ahead. With this, employers need to prepare to stay ahead of the competition. So, what are today's recent grads looking for exactly?
We're here to help breakdown the top 10 desires for new graduates in 2023:
Opportunities for growth
Although grads are just starting out in their career journey, they want to know that they have the potential to grow later down the line. Companies that provide structured career paths or opportunities for continuous learning are desirable for new grads. The chance to acquire new skills, take on challenging projects, and advance in their careers is highly valued.
A competitive benefits package
Most grads are already doing their own research on today's job market, even before graduation. Because of this, they know what counts as a "competitive" salary and benefits package. Transparent pay structures and benefits packages play a significant role in attracting and retaining top talent.
A culture-centered environment
New grads are seeking a company with similar values to their own. Being open and honest about your company's culture will allow them to see what it's like to work there. If culture isn't at the forefront of your business model, think about redefining what it means to you and your company.
Honesty
Being transparent about salary, advancement and work-life balance will attract talent that's willing to be honest in return. Honesty can go a long way when it comes to recent grads. Graduation is a fresh start for so many people, and the best way to start out on the right foot is with open and honest communication.
Team diversity
Recent grads are looking for an environment where different perspectives and backgrounds can come together as one. Address all aspects of diversity in the workplace and think about it as a core strategy during your recruiting efforts.
Meaningful work
Work that contributes to a bigger picture or cause will allow recent grads to feel like they're making an impact. Be sure to emphasize the importance of the day-to-day tasks and how it will affect your company's mission and those around you.
Strong leadership
Supportive and transparent leaders can guide and mentor new grads during their career journey. Strong leadership is a fundamental part of your company, and a noteworthy factor to job seekers like new grads.
Collaboration
A team-oriented environment will provide the opportunity for new team members to share ideas, wisdom and collaborate on upcoming projects. Highschool and college both place an emphasis on collaboration in a school setting. When students graduate, they're often looking for a workplace that mirrors similar aspects to that, and encourages teams to work together effectively and efficiently.
Security
New grads are looking for a stable and secure workplace where they can grow and evolve. Job security is an important element to overall career development, and can help reassure new grads that employers are in it for the long haul.
An easy, seamless process
Graduating from highschool or college is a stressful process as it is. New grads are hoping for an easy transition when they get out of school and start looking for their first job. Because of this, the job search should be both easy and seamless for them. That's why partnering with a staffing agency, like ETS, is the best option to attract the attention of new grads.
At ETS, we'll give you immediate access to the deepest pool of candidates, while creating a stress-free process for new graduates looking for work. Sometimes it can be difficult for companies to navigate the talent pipeline – let us create a customized workforce solution for you, so your company can stand out to the graduating class of 2023!
Find the talent you need – live chat the team now to get started.