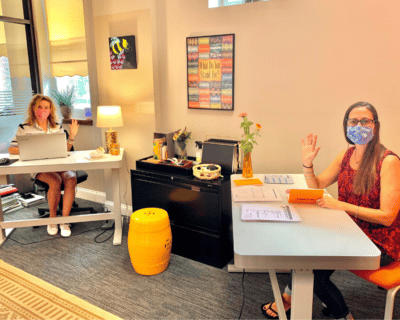 Ready4Real, a not-for-profit education program aimed at developing work readiness skills for career and life success started by local staffing agency, ETS, is celebrating a year of milestones.
Michele Armani, Ready4Real Education Outreach Consultant stated, "In light of what has been a challenging year to say the least, the Ready4Real team and students have continued to adapt and persevere. I couldn't be happier with what our students have been able to achieve because of our dedicated staff, and the ongoing support of the community." 
From self-examination through practical skillset training and application, to connecting with some of the area's top employers, Ready4Real is a one-of-a kind life-changing program. Our unique curriculum is taught in local schools by a team of experts and community partners who are dedicated to helping students build the confidence they need to fulfill their life goals.
Schools and Students Served:
In 2020, Ready4Real partnered with 9 area schools and served 106 students. Through partnerships with school guidance counselors and classroom teachers, Ready4Real leverages NYSDOL funding to enhance the great work that the schools are doing to prepare students for education and careers. Ready4Real teachers meet with 11th and 12th grade classes two to six times per month to deliver a curriculum that focuses on building confidence, professionalism, communication, and identifying talents and strengths; and uses self-reflection as a process of discovering career pathways. In early 2020, Ready4Real quickly shifted to online learning when schools went remote due to the COVID19 pandemic. Using several different online platforms, Ready4Real guides students to explore career options, create vision boards, complete a Myers Briggs personality type assessment, write resumes, prepare for interviews, and apply for jobs.  Additionally, once students are prepared, R4R administers the National Work Readiness Credential assessment demonstrating that students have the essential skills to enter the workforce.
Work Experience
Through the Ready4Real Work Experience program partnering with ETS and employers throughout the region, students gained valuable work experience while receiving salaries totalling $33,021. Work Experience expands the walls of the classroom by exposing students to a variety of industries and skills in ways that are not possible in the classroom alone. Ready4Real Work Experience partnerships give students the opportunity to develop skills that align with their career interests as well as earn money and learn how to manage it.  
Mask Creation PPE Project
Students came together to address the need and the demand for PPE equipment and the shortage that our community was facing. The program provided paid work experience to Beekmantown Central Students who 3-D printed and assembled hundreds of face shields, as well as received grants from Local 1199, WDI, and CVPH Foundation for area students to make masks for Local 1199 employees. 
Ready2Vote
In the midst of an election year, Ready4Real developed its Ready2Vote initiative thanks to a generous grant from the Adirondack Foundation. Ready2Vote is a voter engagement initiative aimed at younger generations. The goal of Ready2Vote is to get young people more involved in the voting process and the communities they call home.  Ready4Real was uniquely positioned to develop this nonpartisan voter engagement initiative. 
North Country Manufacturing Day
The Ready4Real team joined forces with the North Country Manufacturing Day committee to offer a virtual taste of what this action-packed industry has to offer. Inspiring students to start thinking about a career in manufacturing and giving them the resources to be successful. 
American Staffing Association Elevate Award Recipient
This national awards program recognizes the most innovative and effective programs to train, upskill, and reskill the current and emerging workforce. ETS was honored on behalf of Ready4Real with this award for Best Work-Based Learning Program in the U.S. Staffing and Recruiting Industry. 
Volunteering
With the need for food assistance at an all time high this year, staff and students volunteered to support the Hub on the Hill's Emergency Food Package efforts. Bringing fresh food and meals form North Country farms to the people who needed it in Clinton, Essex, Franklin and Hamilton counties. 
Looking Ahead
Cena Abramo, Ready4Real Talent and Training Manager stated, "As we celebrate these achievements, we are reminded of how incredible our community is. We look forward to expanding our program, further creating the bridge between education and successful employment. Guiding students towards their best selves and giving them the resources to do that, whether they're entering the workforce now, or continuing their education."
The Ready4Real team is excited about the year ahead as they embark on some new initiatives including a new training program geared towards preparing students for a career in Manufacturing.  New grant funding and support from ETS will allow the program to expand into more schools reaching more students and community members. 
Deb Cleary, President of ETS and Ready4Real Board Member and Founder added "We are so thankful for the support of the community and organizations such as Adirondack Foundation for helping to launch such a successful program.  The team is looking forward to helping more North Country youth reach their life goals whether that means, college, trade school or employment"
Learn more about the Ready4Real program and apply to be a work experience partner at ETSJOBS.COM/READY4REAL.