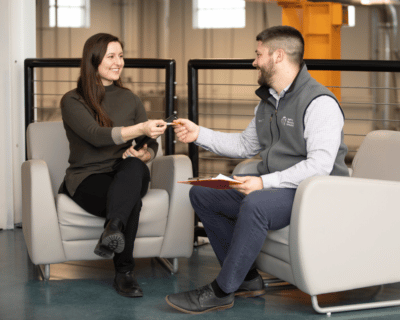 All businesses need staff, but hiring the right people for your workforce can take more time and energy than you may have. That's where a staffing agency comes in. 
Staffing firms are the ultimate workforce solution – finding you the skilled talent you need, where you need it. 
When choosing a staffing company, you'll need to be mindful of who you're selecting. They'll need to share similar values and have prior experience in your industry, but there's even more to it than that. 
As a staffing agency ourselves, we know how important it is to select the right one. This is how you should go through the process:
Evaluate your needs
First, make sure you know exactly what your needs are. What type of employees are you looking for? Do you need to fill temporary, contract-to-hire or direct-hire positions? If you figure out the answers to these questions right off the bat you'll be on the right track. 
You'll also need to evaluate your budget to determine how much you're willing to spend. From there, you'll be able to clearly indicate your needs. 
Some staffing agencies even offer other services besides hiring – such as payroll management, business administration and more. At ETS, we proudly offer payroll, risk management, reporting, employee benefits and HR services.
Do your research
When searching for a staffing agency, you'll want to make sure you find one that has experience working in your industry and will provide a strategic approach to your hiring needs. 
Do some online research and ask around to other businesses in your area before you decide. 
Take note of your interactions & first impressions
When contacting potential staffing agencies, be mindful of your first interactions with them. This firm will be representing you when they are handling your HR processes, so it will be crucial for them to have stellar customer service skills. You'll want an agency that respects you and your workforce, so take note of their demeanor and the impressions they make.
Ask questions to understand their recruitment process
Staffing companies typically have their own processes when it comes to screenings, databases, and how they find potential candidates. Screenings and testings will be key ways to determine the quality of workers you'll receive, so you'll want to know how they conduct these. 
Also ask about the firm's compensation and benefits packages. For employees that are starting out on their payroll, they'll need to have enticing perks to attract a broad audience base. Consider whether the firm's compensation and benefits are competitive to attract the type of employees you need. 
Be clear with your expectations
Make sure you're on the same page. Communication is key, so be clear with your expectations so they can better meet your needs. 
Your point of contact should be someone who understands your business and the type of worker you're looking for. 
Work with a staffing firm that values you & your business
This is likely the most important of them all! Work with an agency that has your best interest in mind – that will be motivated to exceed your needs and expectations, while finding the best candidates for your workforce. 
Think about adding ETS to your staffing agency wishlist! We will create a customized staffing solution for you based on your business needs. Our recruiters are skilled experts in professional search, industrial, manufacturing, skilled trades, and administrative roles – offering the deepest talent pool. Looking to get started? Live chat with us today and we will put you in touch with our business development team.