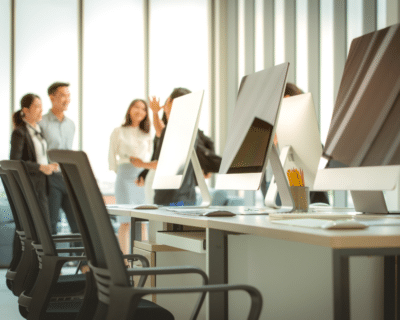 Today's workplace is constantly evolving. The concept of a modern workplace could mean a completely different thing today than it will in 6 months. Because of this, it's important to ensure your team and business model remain adaptable, innovative and diverse.
Here are our tips to create a modern workplace in 2023:
Embrace tech, tech, & more tech
Technology is the key to innovation and adaptation in today's workplace. Automation and AI systems are currently taking the world by storm, no matter the industry you're in. These tools allow organizations to better streamline their efforts and focus on overall company goals.
Foster a strong company culture
A strong company culture is essential to retain top talent and create a modern workforce. 
In 2023, make it a mission to prioritize team-building initiatives and achievements that reflect your company's value and mission.
Emphasize diversity & inclusion
Encourage diversity in all aspects of your business. With a diverse and inclusive workforce, your team will bring broader ideas and new perspectives to the table. Think about the bigger picture, while celebrating employee differences and addressing all aspects of inclusivity. Create a space that's safe and respectful – where everyone feels valued. 
Prioritize employee wellness
Health and wellness have become a priority to today's workforce. An employee-centric business model can ensure the overall growth and happiness for team members – driving long-term business outcomes. 
Prioritize time off, work-life balance, mental health resources, and employee perks (gym memberships are always a win!). 
Highlight collaboration and creativity
Today's workforce is shifting more towards collaboration and creativity. To highlight this, create an environment where your team can work together successfully, a space where they feel encouraged to spark new ideas and foster innovation.  
Rethink your recruiting strategy 
A modern workplace and top talent go hand-in-hand. Without one, the other wouldn't exist.
Your hiring process should be at the forefront of your business model. Take the time to rethink your current recruiting strategy – are your hiring efforts successful? Do you need help streamlining these processes?
Let ETS help you reinvent your recruiting strategy to redefine your workforce in 2023. We can do a deep dive into your needs as a business to develop a customized workforce solution for you. We'll deliver top talent – when you need it, where you need it. Live chat with us now to learn more & get started!