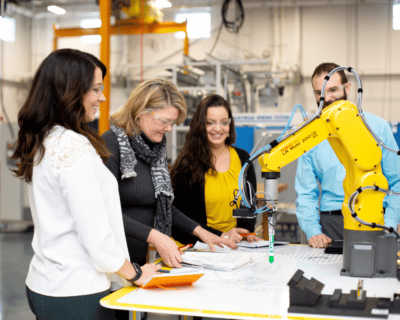 ETS believes Workforce Development is paramount to the success of the communities we serve. On any given day there are far more job openings than there are trained people to fill them. We believe bold, innovative solutions are needed to address this complex problem. One solution is our new training initiative, Ready2Create.The program was created by Ready4Real and ETS to provide hands-on training for the manufacturing industry. 
A manufacturer creates new products from either raw materials or components. R2C is a skills-building program that will provide an immersive training experience to prepare individuals for a career in manufacturing. 
"Ready2Create will allow ETS and Ready4Real to continue building strategic talent pipelines to meet the region's business and economic needs," said Deb Cleary, CEO of ETS, and Ready4Real Board Member.
The program focuses on work-readiness and technical skills to give students the confidence they need to succeed, such as:
Technical skills: Hand and Power Tools, Electrical Assembly, Mechanical Drawings, Crimp, Technical Measurements and more

Credentials: including OSHA 10 and National Work Readiness

Work-Readiness skills: including self-assessments, emotional intelligence, stress management, situational judgment, financial literacy, nutrition to get through the day
R2C provides revolutionary support services to participants that will help to eliminate challenges. These services include transportation, child care, clothing, paid work experience and monetary incentives to complete the program.
Active clients with ETS are automatically a Ready2Create preferred employment partner. Partners in the program can host tours, participate in training sessions, and hire graduates. If you would like to become a preferred employment partner, let our team know! 
We want to say a special thank you to the New York State Workforce Development initiative. Without them, Ready2Create would not exist. The initiative supports critical job training and employment opportunities in high-demand industries for nearly 5,000 New Yorkers across the State. Funding and incentives are provided by the Department of Labor, Empire State Development and the New York State Energy Research and Development Authority.