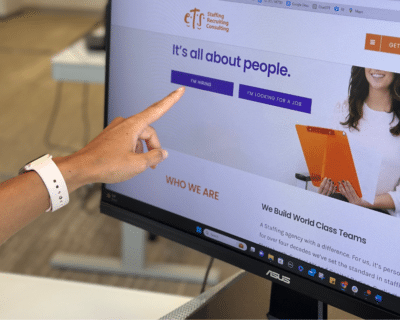 Providing a positive candidate experience is an essential element in any business. In today's job market, companies are doing their best to ensure they attract the right talent. 
How you treat a candidate is a direct reflection on how you will treat them as a future employee. Both of these factors will directly reflect your business performance and how you achieve company goals. 
Evaluate every step of your current hiring process to determine areas to improve the candidate experience you're providing. From there, come up with an action plan and be sure to keep these tips in mind: 
Tip 1: Outline your processes
Make sure that the hiring process is clearly mapped out for the candidate. Outline each stage from the initial application to the acceptance offer, and every step in between.
A great way to do this is to give the candidate a brief overview in the job description or right after they've applied. 
Tip 2: Make the application process easy & seamless
The application should be straightforward and simple to complete. Ensure your career site is easy to find and each job takes only a few minutes to apply. Remove unnecessary steps wherever you can.
Tip 3: Write clear descriptions
Create a concise job description that will be compelling to potential job seekers. Use simple language that is easy to understand, while clearly outlining your expectations.  
Tip 4: Provide frequent touchpoints
Keep in touch between each phase of the hiring process, and be sure to communicate any delays that arise. Frequent communication is a key way to ensure that the candidate remains informed.
Tip 5: Be transparent
Be transparent if you're not willing to move forward with a candidate. Provide feedback to those who made it through the first phase of interviews and let them know why you won't be moving forward with their application. Make an effort to provide touchpoints if you think they would be a better fit for another role down the road. 
Tip 6: Personalize the experience
Candidates value a personalized experience throughout the job search process. Create a candidate journey that is unique to them and use personalized messaging throughout your conversations. Try to remember key details in their resume or during their interview that showcases your desire to get to know them better.
Tip 7: Partner with a staffing agency
If you're looking to provide a positive candidate experience, your best option is to seek the help of a staffing agency! At ETS, we'll take care of your entire hiring process from start to finish, providing solutions for HR, payroll, onboarding, benefits management and more. 
With our customized resources, we'll give you access to the deepest talent pool in your area. Our expert recruiters work diligently to provide an ideal experience for every candidate to find them a role that best matches their expectations and skill set. 
To get started on the right path towards the ideal candidate experience, live chat with our team today!