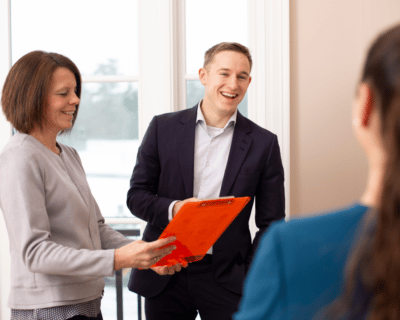 There are many outstanding firms, nationally and locally, who are positively influencing the staffing industry — but not all staffing agencies are created equal. Maybe you're a large company with tons of experience partnering with staffing firms or maybe you're a small start-up exploring optimal ways to find talent. Regardless, recognizing sub-par recruitment efforts isn't always easy — but it is vital.
At ETS, we're all about transparency, and we know you have options. We also know that what you really need is talent within your budget who can get the job done, correctly — like, yesterday.
In order to speed up your time-to-hire, we want you to be as informed as possible. Here are 7 tell-tale signs that the staffing agency you're working with might not be the right fit for your company.
Watch out for recruiters who…
Don't communicate in a timely or clear way
Before a recruiter can deliver quality talent to their client, they need to understand the client inside and out. Recruitment firms are most effective when they truly understand the core challenges and opportunities a company faces. This can only be done by asking the right questions.
Skilled recruiters ask the tough questions that get to the heart of your challenges and know how to deliver difficult messages with grace. Regular updates and communication should be the norm. If you aren't hearing from your recruiter or are only hearing a sales pitch, it's time to reevaluate your partnership.
Push candidates on you without explaining why
Good recruiters are forthcoming about candidates' qualifications, why they are a fit for your company, and how they can lead to success in a given role. If recruiters are not taking the time to communicate their reasoning behind a candidate submission, you have to wonder: How much confidence do they really even have in the applicant? And if the recruiter isn't confident, you shouldn't be either.
Cause more work for you
You know better than anyone, the successes and challenges your company regularly faces. There's a difference between a sustainable staffing solution and a quick fix.
A quick fix is when a recruiter forwards you any and all resumes in the hopes that one candidate will be able to serve as a bandaid until your next staffing problem arises. A good recruiter vets candidates, applications, and resumes BEFORE sending them your way.
Let's face it: your recruiter shouldn't be assigning you homework. Establish ground rules for receiving resumes, and make sure your recruiter is thoroughly vetting candidates before you take time out of your day to review any applications. Otherwise, your recruiter is just collecting a fee while you do the heavy lifting.
Have the lowest prices
When comparing one staffing agency's cost to another, always make sure you understand the services each is offering. Agencies have varying capabilities, some providing a highly customized staffing experience packed with value-added à la carte options. Chances are, if you select a staffing agency based only on cost, you may miss out on quality, insights and resources a more competitively priced agency can provide.  
Regardless, your recruiter should personally make sure you understand the services you're paying for, or assign a representative from Business Development or HR to review them with you.
Look out for their own best interests over yours
As matchmakers, recruiters are charged with cultivating and maintaining trust — both with you, the client, and with candidates, too. The nuanced circumstances of staffing require a unique balance of discretion and transparency. If your recruiters have, in some way, compromised these relationships in favor of personal commission, they're not working for you — they're working for themselves, and you're the one paying for it.
Have a proven track record of unsuccessful placements
Recruiters can only send you so many inappropriate candidates before you start wondering whether or not they know what they're doing. The last thing you want to do is repeatedly fire candidates you're paying someone else to find. Results matter — enough said.
Ignore your instructions
Your feedback is absolutely essential to the recruiting process. In fact, it's a top factor influencing the quality of the hiring process. If your recruiter's goal is to get you the right candidate ASAP (which, duh, it should be), they'll listen to your instructions intently, maintaining current knowledge of all pertinent information, including pay, start dates, work environment, team dynamics, and any other factors you both agree will impact your ideal employee.
Driven by social media and online reviews, word-of-mouth spreads like wildfire. It only takes one unfortunate staffing experience to impact perceptions of the entire industry. Have questions or concerns about your relationship with any of our recruiters? Or maybe you want to start a new relationship to kick off your next staffing search? Live chat our team now!