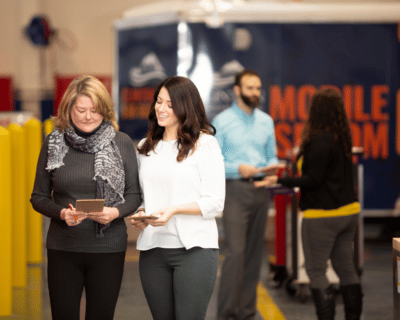 Subject:
A leading provider of custom solutions for unique manufacturing needs. The company partners with clients to transform product ideas into reality, specializing in a variety of manufacturing solutions. 
Challenge:
The company was looking to fulfill high-volume staffing needs for their remote location. When ETS first partnered with the manufacturer, they needed to quickly hire 40+ production employees with increased growth forecasted for the future. On top of volume needs for their remote location, they were challenged with attracting the right candidates. Many qualified candidates who lived near the facility had worked there before, and others had preconceived notions about the company. 
At the time, the company was working with six other agencies (including one in-house agency) whose talent pools were not fulfilling their growing staffing needs, causing concern for current production timelines and future increases in demand. 
Solutions:
From the beginning of their staffing partnership, ETS focused on understanding the manufacturer as a whole – learning about their values and culture, going on site tours, and taking a deep dive into their employer brand. 
With insight into their story, plans for future growth, and what makes a successful employee, ETS developed a strategy to target passive and active candidates.

ETS combined their vetted technology with consistent and frequent touchpoints to engage with qualified candidates for their light industrial contract-to-hire roles.  

Equipped with local hiring insights, from competitors' pay rates to talent pool preferences and needs, ETS consulted the company to increase their pay rates in order to engage qualified talent. With ETS research and data, the company now had the evidence they needed to finalize a pay increase. 

ETS' dedicated account manager facilitated daily and weekly staffing updates with HR to ensure the ETS team was fully up to date on open orders, production goals and forecasted growth. 

ETS met with the manufacturers' HR and Production team to present and review metrics. 
Results:
ETS grew to become the leading staffing partner in just nine months, proving their ability to provide the support the company needed to effectively handle their growing staffing needs on a consistent basis. 
Immediate efforts by ETS made a drastic improvement to their workforce challenge. In less than three months, ETS had over 60 employees working at the manufacturer. 

ETS' personalized approach to connecting with candidates boosted the brand's reputation, fostered positive word-of-mouth and in turn, aided the growth of this new market for ETS. This opened up the door to reach new candidates, and re-engage with past employees who could return.

To streamline the company's application management process, ETS now acts as a single point of contact for all industrial applicants who directly apply.

The foundation for a trusted partnership was built, giving ETS the ability to directly hire employees for the company with no interviews needed by the manufacturer – significantly shortening their time-to-hire. 

ETS now supplies the manufacturer with weekly staffing solutions that provide over 100 contract-to-hire employees across two shifts.